Evlis' Hours
Elvis is in the Building: Tuesday - Friday 11am to 5pm
All About Elvis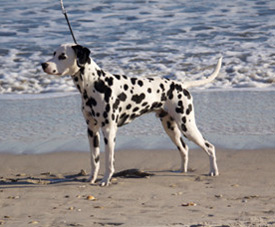 Elvis was born November 13, 2013 and was the tenth puppy out of a litter of eleven. His father and mother are both Grand Champions, with his Father being one of the most accomplished Dalmatian show dogs of record. Elvis earned his AKC Championship title at the age of 8 months and he will continue (hopefully following his father's paw steps) with the next level of his show career at the end of March.
Elvis currently shares his love and attention with his Grandfather Bubba, Grandmother Emily, Uncle Dude and two sisters -Ethel & Eleanor and of course his Human Mom & Dad. Elvis loves to go on hikes with Dad, wrestle & chase his sisters, play fetch, chew bones and cuddle on the couch with Mom watching television.
Elvis began working at Pet Essentials when he was 14 weeks old. His job title is.... well he likes to eat treats, look extremely cute and greet his customers with a lick, a wag of the tail and the occasional hug. Elvis' favorite part of his job is giving a sniff of approval on a variety of yummy treats, as well as ringing the bell for customer service. Mostly, it is eating all the yummy treats! Just ask him. However, sometimes he is found sleeping on the job, he claims he's testing the quality and comfort of the bed, all in the name of customer service, of course!
You can find Elvis working at Pet Essentials so make sure to stop in and have Elvis give your purchase a sniff of approval!