About Us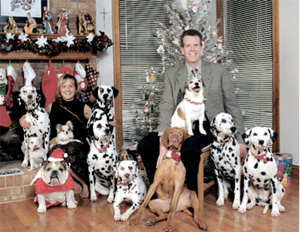 "A good man is concerned for the welfare of his animals." Proverbs 12:10
Karen & Paul Rowan have been breeding, training & showing champion show dogs & rescuing dogs for over 18 years. We opened Pet Essentials in 1999 out of a deep passion to help pet owners give their pets the best care. We raise champion show dogs and have rescued many abused & neglected dogs and cats; Love, proper training and good nutrition are key to having a happy, healthy pet.

Have you ever wondered, what are the owners' qualifications?

We are a family owned and operated independent Holistic Dog & Cat food & Supply store located in Charlotte, North Carolina (not a franchise or a chain). We opened Pet Essentials in September of 1999, I am "Mom" (Karen) and my husband Paul is "Pop" of Pet Essentials, stop in and meet us. We have over 20 years of experience training, showing and competing with our Dalmatians and fostering rescue dogs & cats.
We are Ethical & Responsible Breeders, we breed one litter every 4 years. Before a dog is chosen to be bred, that dog is shown and proven to meet the requirements of the Dalmatian Standard and earns it's Championship title. After it's Championship is earned the dog then goes through a series of veterinary evaluations and certifications; their hips are evaluated and certified in OFA & Penn Hip, their thyroid is tested, eye cerf and Baer Hearing tested. All this is done to help preserve and protect the future of the purebred Dalmatian.

We understand the importance to Responsible & Ethical breeding programs and are very committed to this cause. Our puppies are sold on a mandatory Spay/Neuter contract and our puppies are not sold for profit.

Paul & I are very active and compassionate when it comes to rescue. We have fostered and placed countless unwanted dogs & cats over the past 20 years, we have and continue to be huge supporters of CMPD Animal Care & Controls' adoption events, Micro Chip Clinics, and we have raised thousands of dollars for their Spay/Neuter fund.

Have you ever wondered, why we opened a store?

Prior to opening Pet Essentials, on their many journeys to the big box pet stores to buy food, Karen & Paul were always sharing their knowledge with new puppy owners who were lost in the aisles, not knowing what to buy. One day, Paul came home two hours late because he had been helping a family with a new Golden Retriever puppy in their arms, who were clueless on what they needed to buy and again, there wasn't an employee of the big box store around to offer any help. That night, the concept of Pet Essentials was born.

OUR MISSION: TO PROVIDE QUALITY & REASONABLY PRICED PET SUPPLIES TO DOG & CAT OWNERS WITH KNOWLEDGEABLE CARING ASSISTANCE RESULTING IN AN EDUCATED & SATISFYING BUYING DECISION.

Training at Pet Essentials is very important, not only for the dogs, but for our staff as well. We conduct educational meetings reviewing new products, product uses, nutrition and frequently asked questions by customers. At each meeting, employees are given hypothetical problems that a pet owner could ask. Role playing is an important part of learning and having fun. If you have a question, ask our staff and feel confident that they know the correct answer, and feel reassured that if they happen to not know the best solution to your problem, they will bring us in on a consultation. We have the advice you can trust with the practical experience to back it up!
Our Services
DIY Bathing, Private Behavioral Training, Bakery, Deli & Butcher Shop, Boutique.